YAMAHA
GYT kitted AS1 cafe racer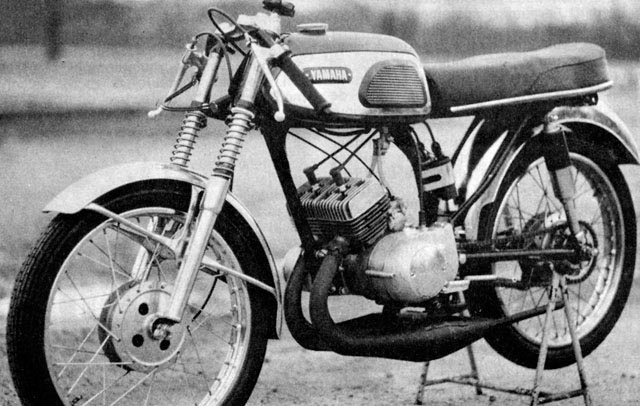 YAMAHA AS1 GYT Kit

Here is a picture of a GYT kit for an AS3 (note the TA125 style pipes & the 2 extra gears to make it a 7 speed)

Here is a scan from a YAMAHA brochure I have. This is a GYT kit for an AS1 (these are the pipes I have)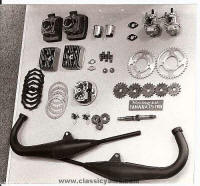 Here is one more picture of the AS-1 GYT kit. this came from another website click here to see more AS-1 race kitted bikes on this site. These are some crazy builds.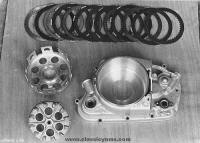 AS-1 dry clutch???? I want one!!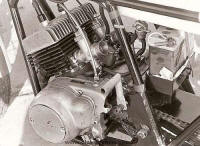 Dellorto Carbs. This is exactly what I was planning to use on my project. with two little remote floats they should look just like the Amal-Mikuni 276 carbs the TD race bikes used. you can see the resemblance between the Dellorto and the Amal/Mikuni 276 carbs below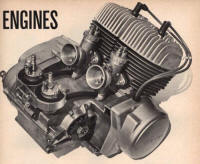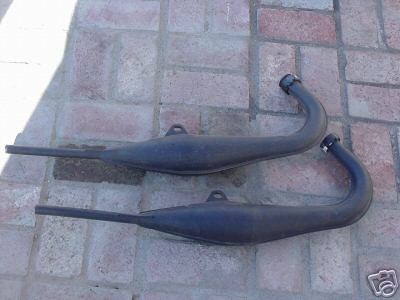 Here are the pipes I have, as they were pictured on eBay (incorrectly listed and sold as YL-1 GYT pipe)
The GYT pipes I bought. When I got them home I noticed that they didn't fit my YL1 and then I noticed that they looked exactly like the ones in the AS1 GYT brochure ( pictured above ). My next step, of course, was to go get myself an AS1. The tabs on the GYT pipes line up perfectly to the center stand bolt holes. The sound SOOOOOOO awesome!! They make a VERY raspy and almost "pingy" sound but they are not as loud as I thought they would be. My project is going to be a Cafe style bike and will be ridden on public roads so it's a good thing the pipes are not too loud. I'm certain to turn heads though. Here they are on my AS-1c about 10 minutes after I got the bike ( I just couldn't wait to get those ugly high-pipes off the bike)
Here is an article from an English magazine about the Granby Yamaha AS-1
Here is a Spondon framed AS-1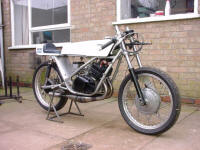 Here is a video of a GYT kitted AS1. The sound is great!
I would have to guess that GYT magneto works very well if he can start it with his hand.
Incase any of you are wondering, YES I am looking for AS-1 YL-1 GYT kit or any other race or cafe parts. If you know anyone who has parts, pictures or info, please email me at: